The Best Way to See the Greatest City in the World.
Are you looking for a refreshingly unique, enjoyably informative, and, most importantly, FUN new way to see New York City? You've come to the right place.
Bike and Roll NYC is proud to offer unparalleled bicycle and Segway tours and rentals that allow our guests (that's you!) to see this extraordinary city from a new and thrilling perspective. Wave "goodbye!" to those traffic-riddled tour buses as you zoom past and revel in the urban views from the seat of your very own Trek bicycle or Segway!
You see, here at Bike and Roll, we're committed to ensuring that each and every rider leaves us saying, "That was the highlight of my whole trip!" It's important to us to get that right, day in and day out (really—our team thrives on wowing customers!). We go to great lengths to provide our guests with the very best in customer service and enriching entertainment.
But enough about us—let's talk about you. Here's what you can expect to experience when you visit Bike and Roll for your touring and rental needs:
Quality and consistency throughout each of our ten locations
Innovative and engaging tours that give riders a fresh take on seeing NYC
A wide variety of touring and rental options sure to please any visitor
Environmentally friendly transportation for both visitors and locals alike
Sure, being the best might be hard work, but that's just how we roll.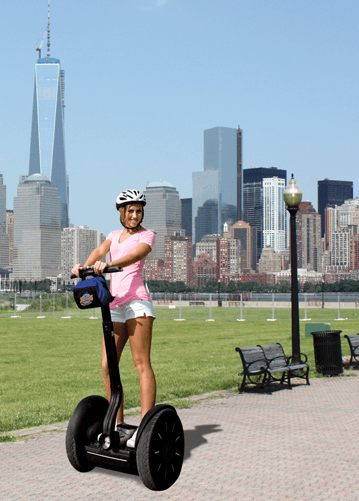 It's no secret that Bike and Roll-ers are pretty passionate about what they do. When you get to work with bicycles, Segways, and great guests from around the globe, it's hard not to be!
Chris Wogas
President

Chris Wogas serves as President of Bike and Roll and has a diverse background in operations and facility management.
Nicole Mylonas
Marketing Manager

Nicole has a love for New York City that continues to grow through her work at Bike and Roll.
Bob Trenta
Tour Manager

A high school History teacher for several decades, Bob  returned to NYC in 2008 to share his broad knowledge of the New York City area where he was raised.
Jonathan Rocha
Fleet Coordinator

Jonathan Rocha has been with Bike and Roll since 2011. Starting as a mechanic for the company, his drive and passion for bicycles has helped him move into the Fleet Coordinator position.
Matt Finelli
Manager of Operations

After completing his Master's degree in Human Resource Management, Matt joined the Bike and Roll NYC team, blending his academic and professional background with his passion for cycling.