New York City offers many amazing riding events throughout the year.
Whether competitive, family-oriented, or for charity, these events usually bring out big crowds and a great time for all.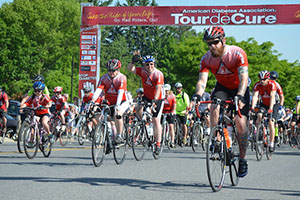 Tour de Cure
A feel-good fundraising event for riders of all levels!
Tour de Cure is a ride, not a race, which raises money for the American Diabetes Association through nation-wide cycling events. Take part in all the fun while you take a stand against diabetes!
Tour de Cure features routes of varying lengths for riders of all skill levels; there's a little something for everyone from a quick jaunt to a more challenging distance. No matter which ride you choose, take it at your own speed and enjoy the journey! All routes are safe and fully supported with route marshals, SAG vehicles, mechanical support, and rest stops stocked with water, sports drinks, and a variety of snacks to keep you fired up! For more information, just visit the Tour de Cure official site. [Link]
Whether you're a local or a visitor, Bike and Roll NYC can set you up with the perfect bike for your Tour de Cure experience. And, we offer special rates just for Tour participants, so reserve ahead of time and get ready to roll!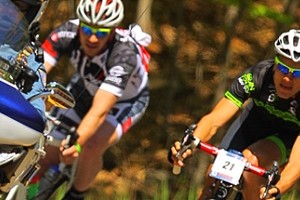 Campagnolo Gran Fondo New York
Experience la dolce vita in New York City with Campagnolo Gran Fondo!
Viva Italian-style racing, right here in NYC! Join the ranks of cyclists (we're talking thousands!) as you take on the challenging 100-mile Gran Fondo or the 65-mile non-competitive Medio Fondo, from New York City to Bear Mountain and back in an experience that will leave you feeling molto European!
Bike and Roll NYC is thrilled to offer race-goers our impressive fleet of Trek Racing bikes. Reserve your ride ahead of time online, and pick it up the day before the big race. And rest assured we'll have mechanics available to change out pedals!
A top-notch, well-tuned bike, helmet, and added convenience are available to you for only $159! Take advantage of this great deal and book with us today. (Oh, and Buona fortuna!)
TD Five Boro Bike Tour

40 miles, 5 boroughs, 1 day, 0 cars.… All in New York City!
Every year, on the first Sunday in May, over 30,000 riders set off through all five boroughs of magnificent NYC during the world's biggest charitable bike ride: the TD Five Boro Bike Tour! This famously traffic-free ride takes participants through (roll call!) Manhattan, The Bronx, Queens, Brooklyn, and Staten Island, all in the name of Bike New York's honorable mission to provide free bicycle education classes.The TD Five Boro Bike Tour is an awesome opportunity to introduce even more people to the many benefits of cycling, all while touring the iconic neighborhoods of NYC by bike. There's truly no better way to see this majestic city than from the seat of your own bicycle; and for one whole day, all the streets are yours to pedal!
For years, Bike and Roll NYC has participated in this event by offering both locals and visitors quality bike rentals to make this epic five-borough ride. Availability is on a first-come, first-served basis, so don't hesitate: reserve your Bike and Roll rental today, and be sure to have a wheely great time. (We couldn't help ourselves!)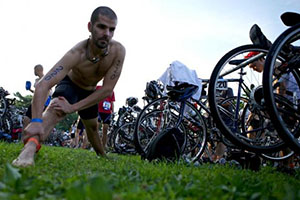 New York City Triathlon
A world-renowned Olympic-distance triathlon held every summer in New York City
Each year, brave triathletes from around the world commune in New York City for a 1500m swim across the mighty Hudson River, a 40km bike ride along Manhattan's beautiful West Side Highway, and finally a 10km run through world-famous Central Park.  The 15th Annual Panasonic New York City Triathlon will be held on July 19, 2015.
This annual event has quickly become an NYC staple, and we love to be a part of the action! Bike and Roll is proud to offer triathletes custom-fitted Trek race bikes that are available to rent for the event. Visiting athletes can rest easy knowing a quality bicycle is one less thing they need to worry about in preparation for their big day!